Polished Concrete Floors.
A perfect polished concrete floor.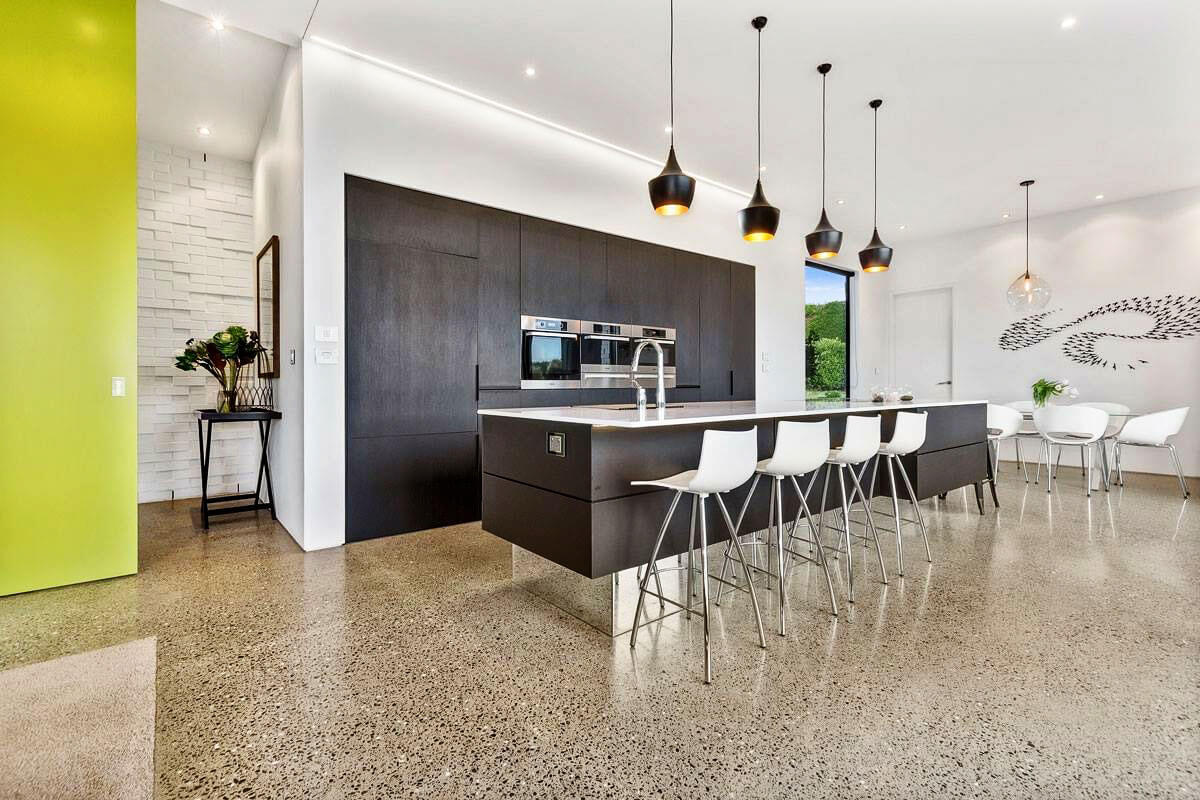 Polishing concrete occurs in two steps.
Polishing concrete, as the name suggests, is the refinement or smoothing of the concrete surface. Polishing is a two-step process.
Grinding.
Grinding (also called honing) is the first step, where the surface is mechanically removed. This step is normally done 10 – 20 days after the concrete is laid but can be done at any time on older existing concrete. This process exposes the aggregate (stones) in the concrete, although it is possible to polish the surface without revealing any aggregate. The standard concrete aggregate can be supplemented with other materials such as glass and shell when it is being laid, which are then revealed with grinding. The deeper the grind, the more aggregate is visible. The depths of grinding are described as follows:
Natural Polish – 0 mm of the surface removed
Salt and Pepper grind – 1-2 mm of the surface removed
Light grind – 2-3 mm of the surface removed
Medium grind – 3-4 mm of the surface removed
Heavy grind – 5+ mm of the surface removed
Polishing.
The second step is the polishing of the concrete, where the surface is made smoother by passing over the floor multiple times with increasingly finer pads. If you think of different grades of sandpaper, you start with the rough and work your way to a smoother grade to finish. With polishing, 100 grit gives a rough floor, and you can go up to 3,000 grit which gives a mirror finish.
While a floor that has simply been ground can be sealed, a true polished floor is treated with a densifier which hardens the concrete, then a microfilm is burnished into the surface after polishing – this process is the PeterFell C2 Polished Concrete System.
Honing or grinding your floor will create the finished look, so there are some important things you need to consider:
Aggregate colour.
Check with local concrete mix companies to see what stone is available – the dominant colour is usually the colour of the stone (except for the salt and pepper grind).
Concrete colour.
Use one of our colours to set the tone.
Aggregate shape.
Angular or round pebbles are popular choices.
Depth of honing.
Level of honing (smoothness).
100 grit (rough) – 3,000 grit (mirror finish).
Protection.
Peter Fell C2 polished System.
C2 polished concrete floors improve on the natural beauty of concrete.
PeterFell C2 Polished Concrete flooring brings all the natural beauty of concrete to your home, while being more durable, hardwearing and stain resistant.
It's all thanks to the lithium silicate-based densifiers that are used during the grinding and polishing process when your floor is installed.
The unique liquid hardener penetrates deep into the pores of the concrete – far deeper than traditional densifiers and coatings. It literally tightens the concrete, making it harder for water, oil and other contaminants to get in.
A special microfilm is then added to create a protective coating that is melted into the concrete for extra strength and durability.
PeterFell C2 Polished Concrete flooring has been enhancing thousands of New Zealand homes since 2007 (and is used in over 40 countries).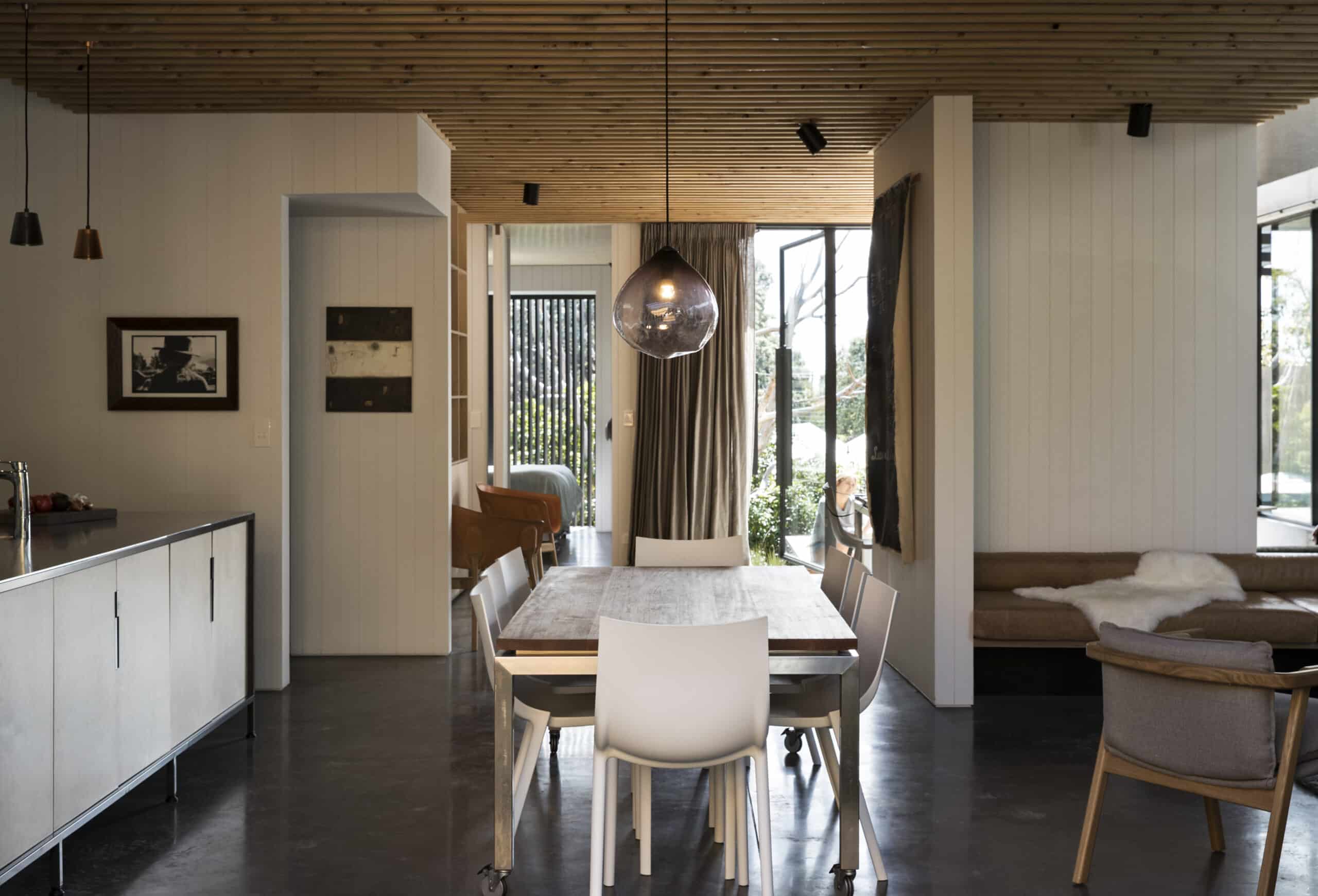 Choose the right application.
There's a C2 system that's right for your space – indoors or out.
To ensure the best outcome, we recommend that most systems are applied by Trained Applicators only. We've highlighted which system requires a Trained Applicator below.
| | | |
| --- | --- | --- |
| C2 Gloss | The most commonly used system, suitable for home, commercial and industrial uses. | Applicator only |
| C2 Shield | Where oil and grease are present, the C2 Shield system offers increased stain protection – for areas such as cafes or domestic kitchens. | Applicator only |
| C2 Base | A cost effective solution that increases the durability of the floor, as well as gloss and stain resistance. | DIY, and Applicator |
| C2 Public | An exterior solution for public spaces that increases longevity and reduces staining risk – and cost effective as well. |  Applicator only |
Care & maintenance for your polished concrete floor.
C2 floors will last for years, and like any floor, they'll need regular cleaning to look their best.
We recommend that you use C2 Clean and C2 Maintenance products. These are purpose designed to provide your floor with outstanding cleaning results. Regular use will extend the life of your floor, keep it looking better longer, and minimise the need for any retreatment.
Free C2 Floor Care Pack.
Your installer will give you a free C2 Floor Care Pack when you have your floor installed. Or, you can call us on 0800 4 COLOUR and we'll send a complimentary pack to you.
Find out more about the benefits of a PeterFell C2 polished concrete floor from your local concrete floor installer. Or contact us.