Be inspired by these coloured concrete floors.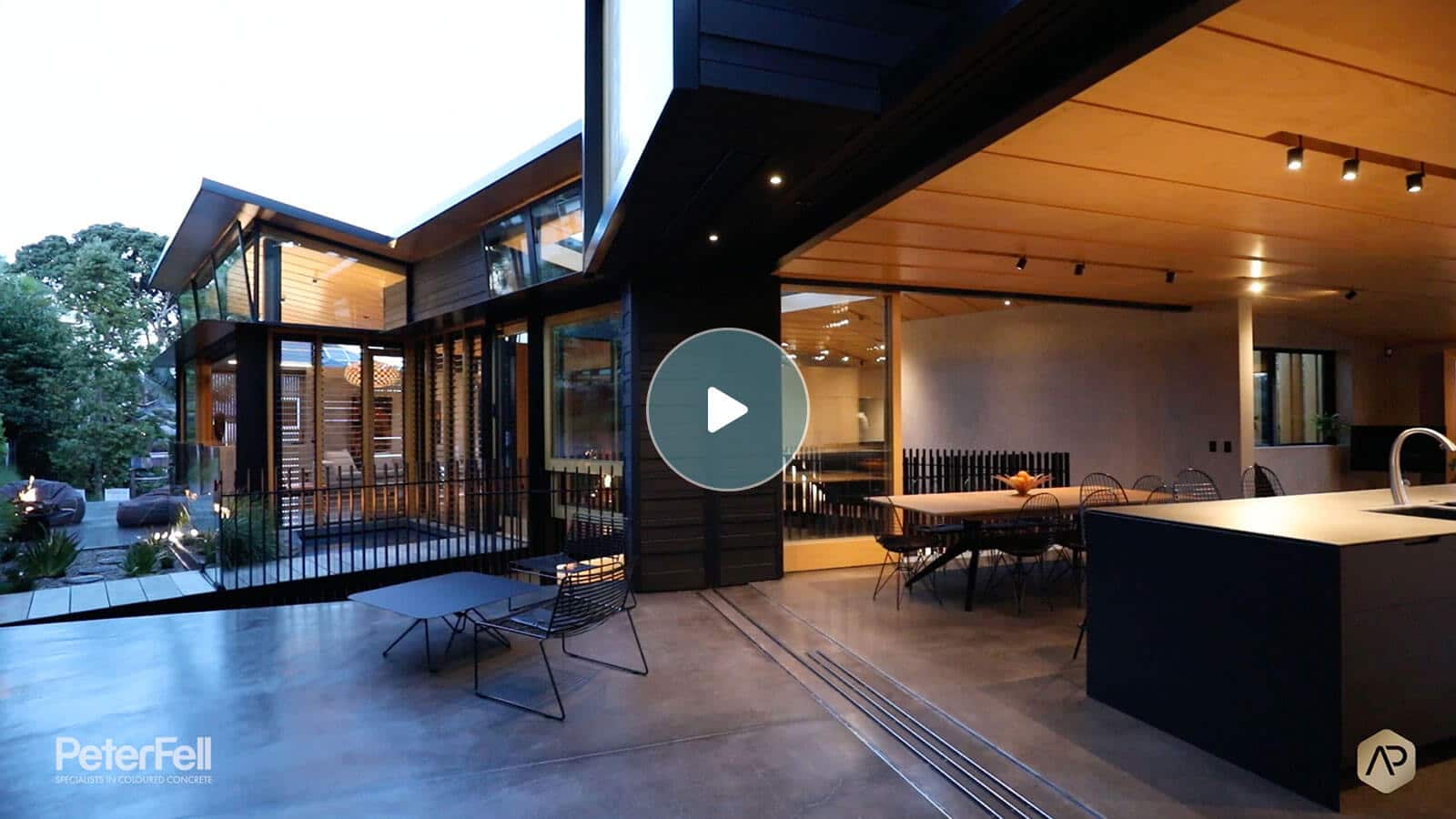 Coloured concrete floors create beautiful yet practical living spaces in this seaside home by SGA Architects.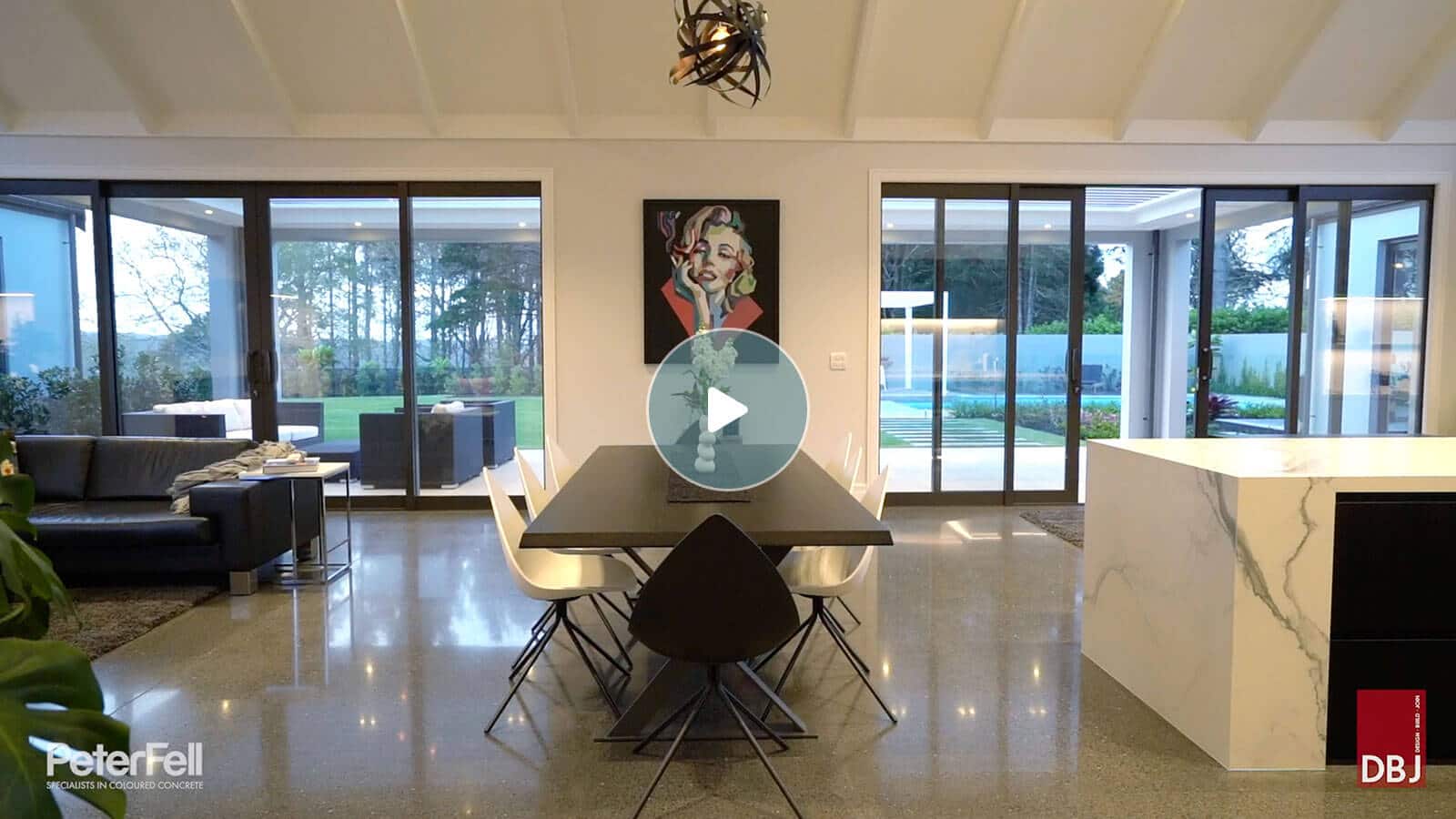 The unique thermal properties of a concrete floor help create a warm living space in this Coatesville home by MDS.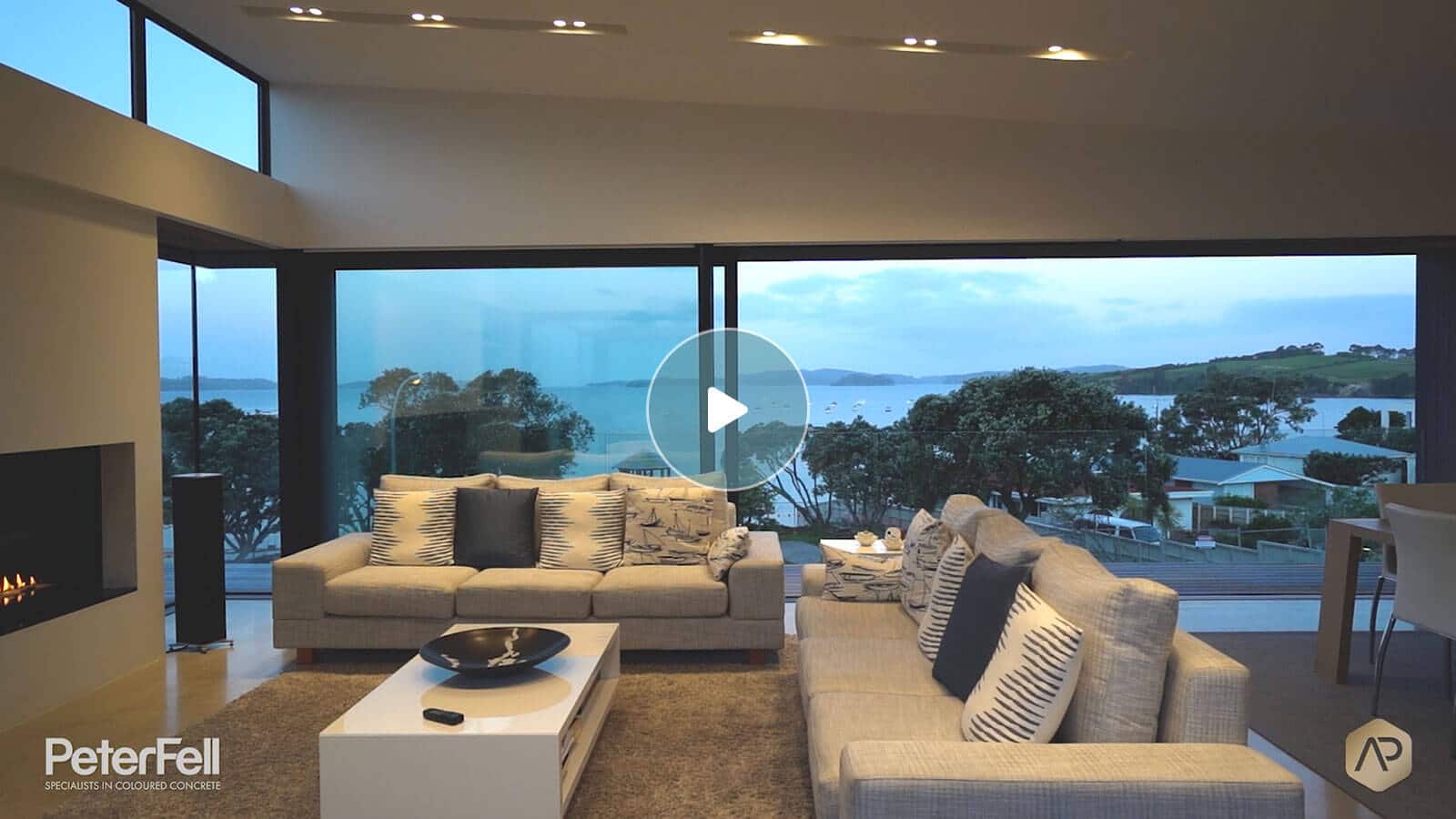 Sandspit House by Julian Guthrie Architecture stays cooler in summer and warmer in winter thanks to it's extensive concrete floors coloured to match the sand of the surrounding beaches.
More comfortable with a coloured concrete floor.
It soaks up the heat during the day and gently releases it throughout the night to keep you warm and cosy.
This thermal efficiency keeps your power costs down too, as there's less need for heating and cooling. The smooth, easy to clean surface makes it easier to maintain a healthier environment. It's a great option for allergy sufferers.
Of course, the benefits of a concrete floor aren't just about practicality.
A concrete floor looks great. It radiates style throughout your kitchen, living room, hallway or wherever. With so many colours and finishes to choose from, you can create a look that is distinctly your own.
And because it's concrete, it will maintain its beauty for decades.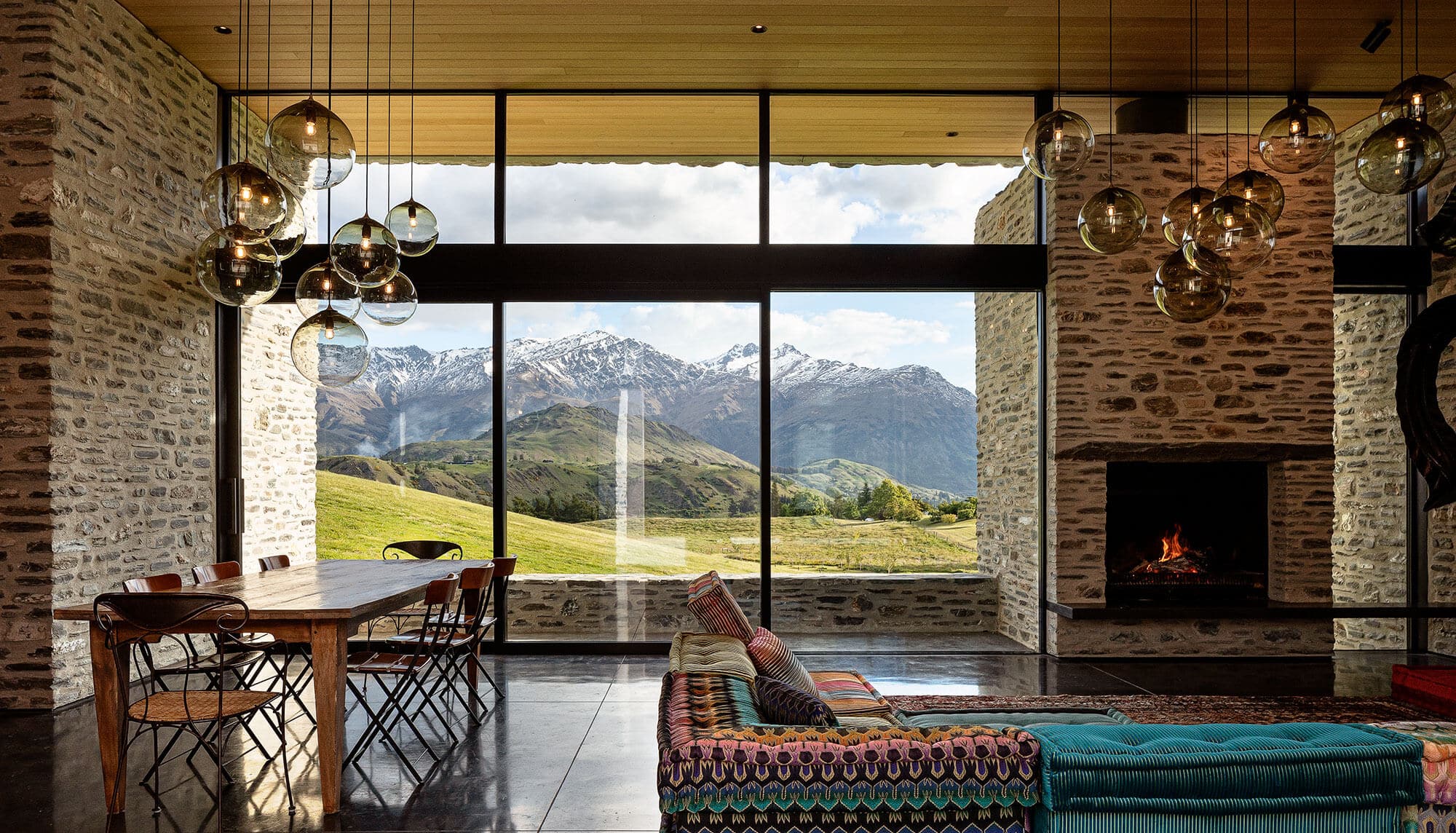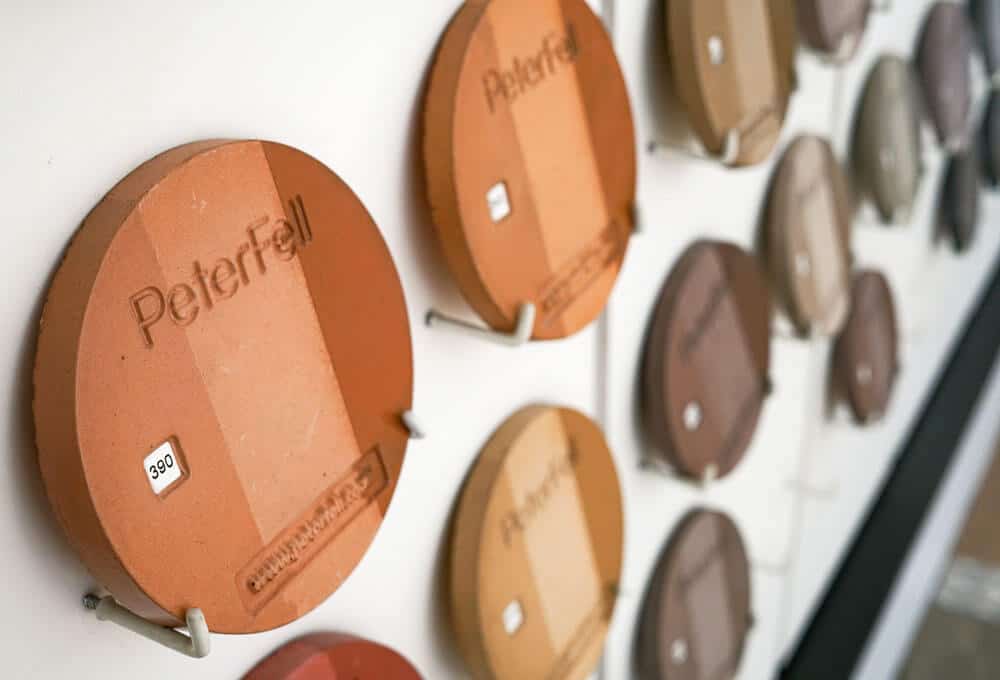 Follow these five steps to create your perfect floor.
The PeterFell System is the proven way to colour and protect your concrete.
There are five basic steps that take you through design, colour, texture, patterns, and protection. So you can create the space you want and know it's going to last.
Colour can be used in most flooring systems and integrated with other materials.
The PeterFell System can be integrated in most concrete flooring systems i.e. slab on grade, raft flooring, suspended slabs. Coloured concrete can be used exclusively throughout the house, or used in conjunction with other flooring materials such as hard wood flooring, tiles or carpet – you simply use decorative concrete where you desire. The decorative concrete can provide a simple clean platform to a room, or be cut into patterned 'tiles', or augmented with a variety of inlays and inserts providing a range of textural and design options.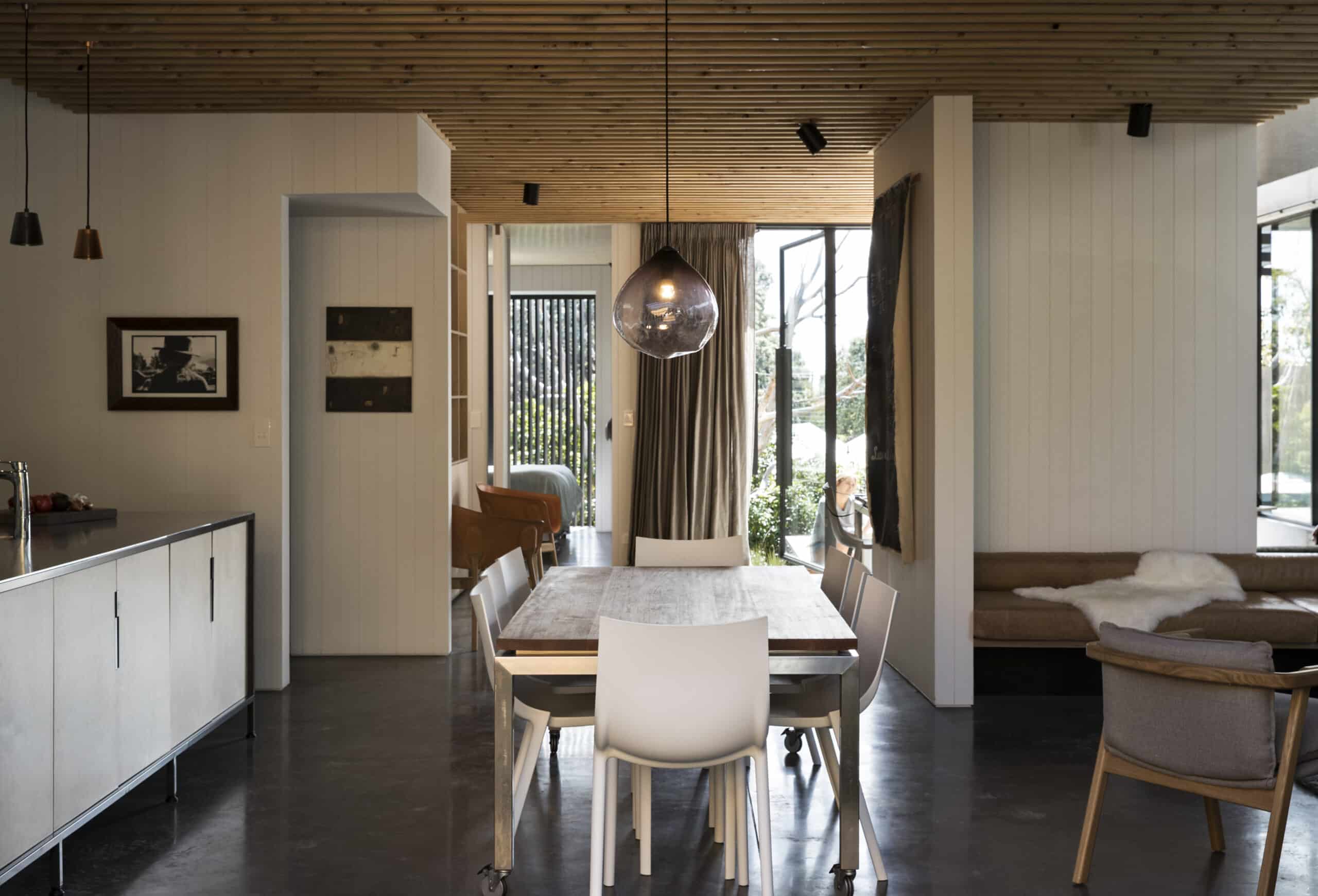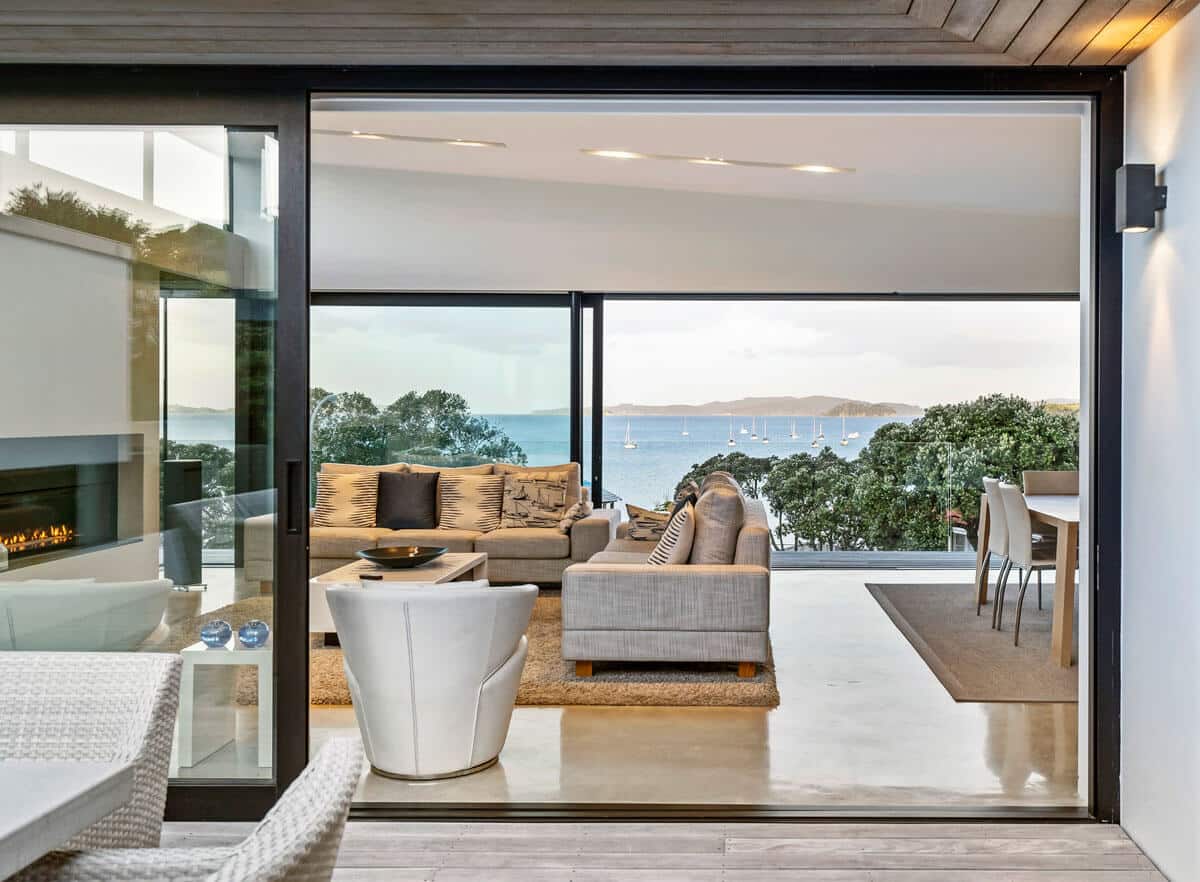 You don't need to follow any rules or trends when it comes to choosing colour for your floor. It's all about personal choice.
With over 80 colours available, there is plenty of colour choice for your new floor. The iron oxides used to colour the concrete are completely UV stable and are mixed all the way through the concrete, so the colour is permanent. As concrete is a natural product, adding the colour takes on a natural patina, or mottliness, which is characteristic of a true coloured concrete floor, and makes each floor unique.
It's important that you see real concrete samples before you make your final selection. Don't pick your colours from the screen, as colours will look different on every screen you view it on. Visit our showroom or order a concrete sample.
Handy hints:
For areas with good sun, too light a colour can result in excessive glare.
For areas that get little light, use a light colour to lift the whole space.
You don't need to be bold! The Neutral and Charcoal range offer a number of neutral colour options that will never go out of fashion.
The floor colour shouldn't be the star. Use it to set the tone.
Use carpets and rugs in larger areas to help break up the space.
What finish is right for me?
When choosing a decorative concrete floor, one of the main decisions is what textured finish to use.
The standard concrete finish (smooth trowel) results in a floor with a simple clean look and feel. This finish is the most economical, and the natural patina of the colour comes to the fore.
If a more detailed finish is desired, the concrete can be ground, removing the top surface to expose the stones (aggregate) in the concrete. In grinding the floor, several other factors need to be considered, such as the type of aggregate (shape, size, colour) and how much of the aggregate you want to see. Whilst more expensive, grinding opens up a lot more decorative options, enables any minor imperfections to be remedied, and gives more control over the gloss level of the finished floor.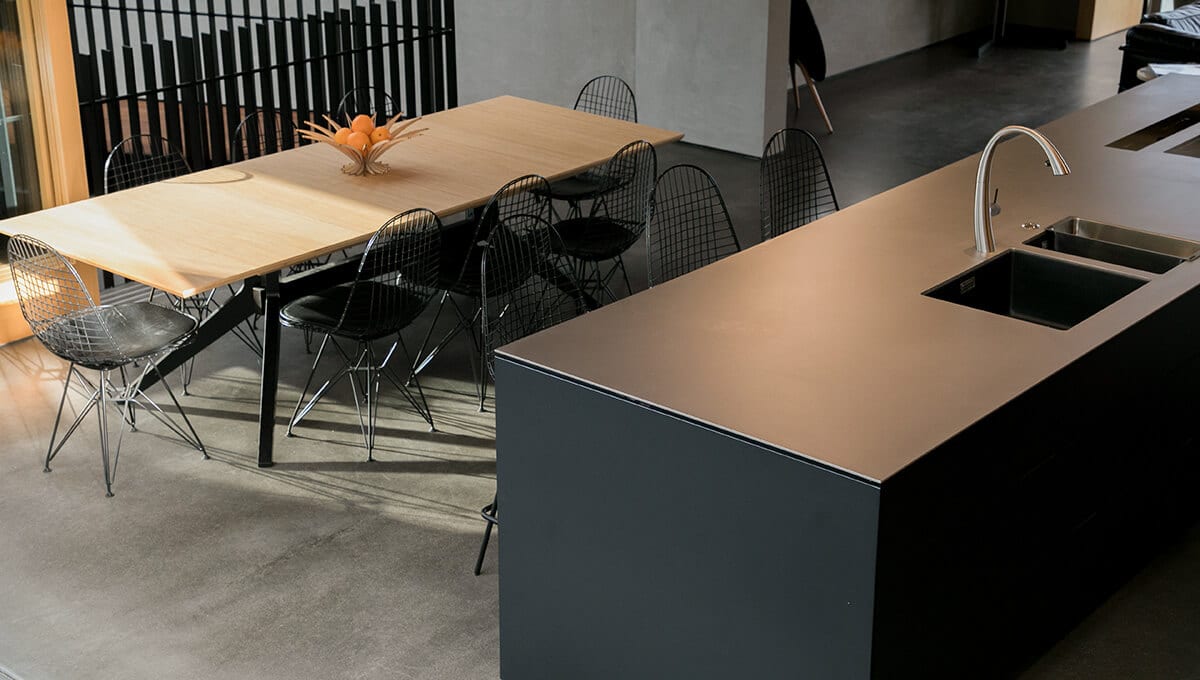 Smooth trowel finished floors.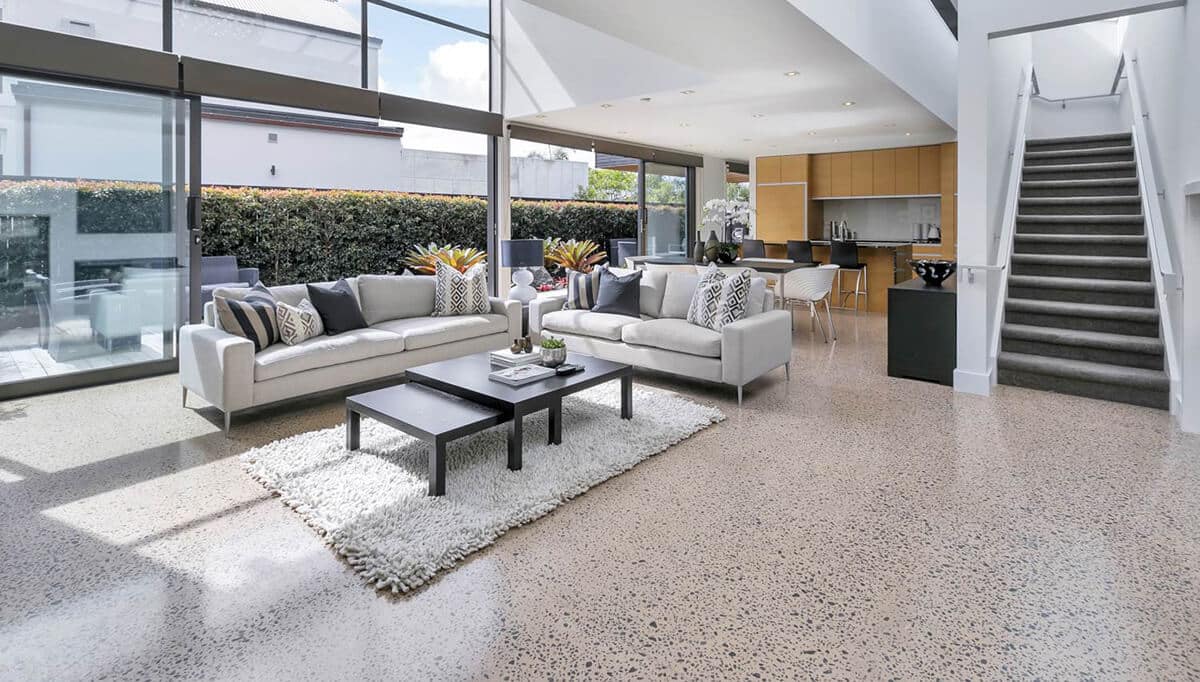 Ground / Polished concrete floors.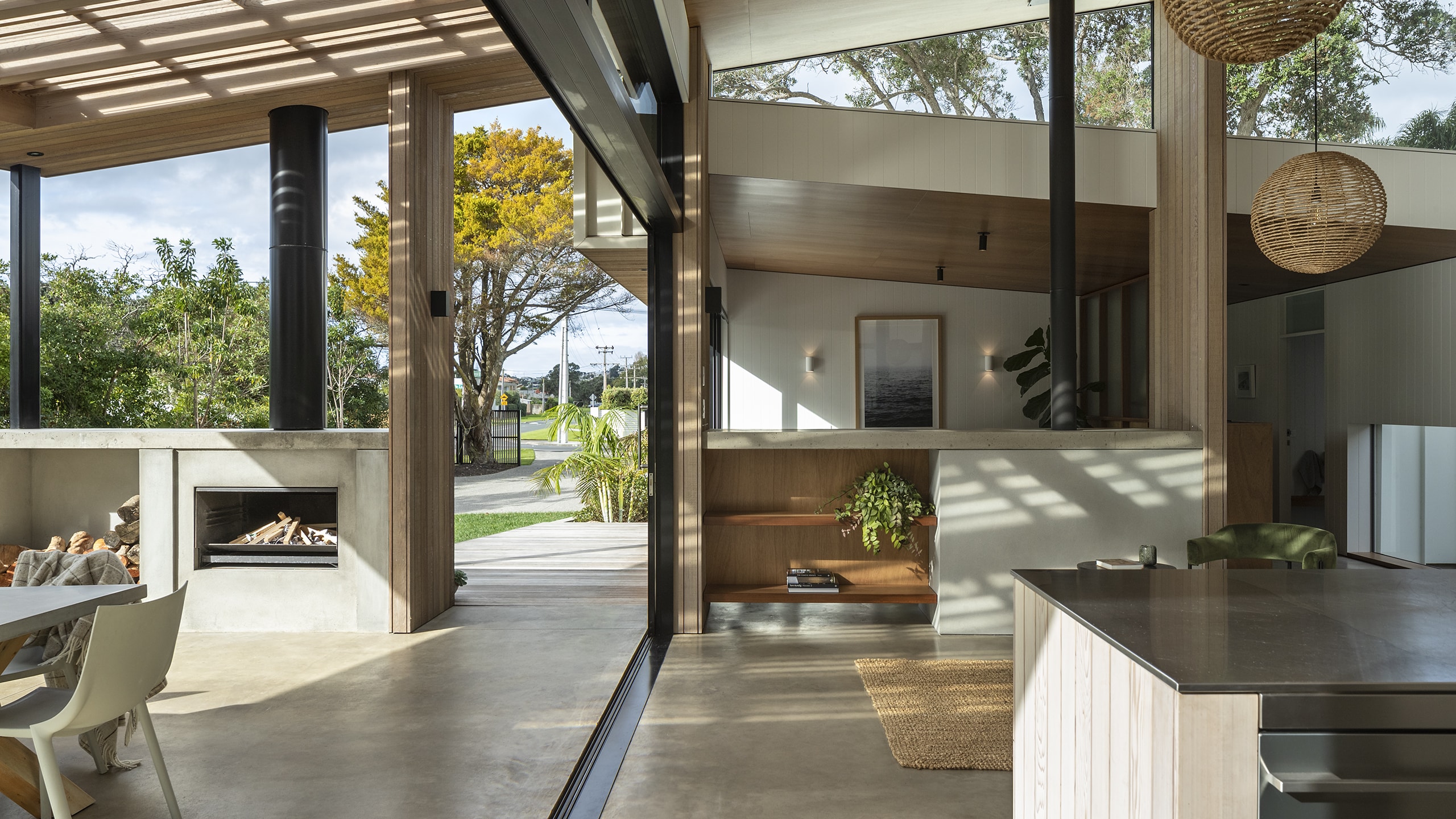 Cutting concrete is essential to control cracking but can also be used to add detail to the floor.
All newly poured concrete shrinks as it dries which can result in cracks. To control this potential cracking the concrete is cut (Construction Cuts) shortly after being laid. These cuts are strategically placed and serve an important function in the performance of the floor.
These Construction Cuts can be complemented with additional cuts to form a pattern on the surface. These secondary cuts (Decorative Cuts) can be placed wherever desired to create a tile or large flagstone look. Conversely, if clean space is desired no additional cuts are required.
The cuts are filled with a coloured grout.
To finish the pattern, the cuts are filled with our special concrete grout. This grout can be coloured using any PeterFell colour. Commonly people choose to have the grout the same colour as the concrete. As the grout is slightly darker than concrete, the colour will have a slight tonal difference, giving a subtle contrast to the pattern. The surface of the grout may be flush with the surface or slightly concave. It's all about the look you want to create.
Sealing or polishing the concrete protects from staining and marking, making it easy to clean and maintain.
The last step in the PeterFell System is to protect the floor and provide a suitable gloss finish. This can be achieved by application of a sealer or by polishing the concrete surface. A sealer can be applied to the surface to form a protective coating and a lustre to the surface. A range of sealers are available, and they can be applied by a DIYer.
Alternatively, the floor can be polished. Polishing involves mechanically refining the surface in combination with products that harden and protect the surface. Polishing the surface enable a range of gloss levels to be achieved.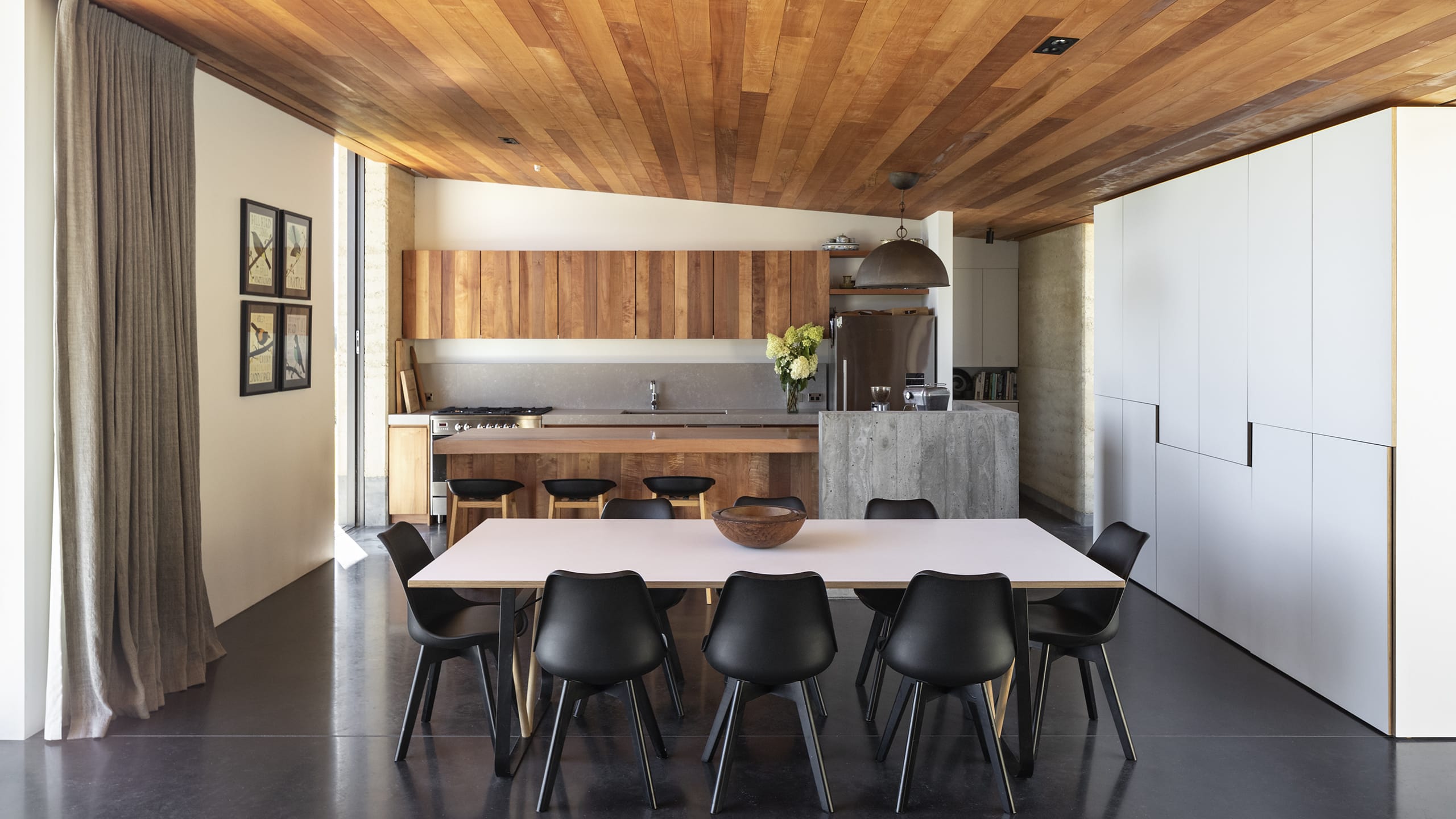 Frequently asked questions.
Design.
Why should I use concrete flooring?
Concrete is one of the oldest and most widely used construction materials, and possess many inherent qualities which can benefit designers, architects, engineers, and most importantly the end user. Learn more about the benefits of using concrete.
One of the major benefits of concrete in house floors is its thermal efficiency, absorbing radiant heat through the day and slowly releasing in the evening as the temperature drops. For more information on the thermal properties of concrete and how to maximise thermal gain in the design phase click here to download a helpful booklet.
Why should I use Peter Fell Ltd?
Peter Fell Ltd has an established reputation for producing exceptional coloured concrete environments, primarily, but not exclusively, stunning coloured concrete floors. The company has gained the position of market leader through a culture of quality in all aspects of business – we source only the best materials, and our fully trained staff provide full support throughout any project. Learn more about Peter Fell Ltd or the PeterFell System.
Which flooring systems can use coloured concrete?
Colour can be added to virtually all concrete flooring system – slab on grade, pod system or suspended slabs. Contact us and we can discuss how the PeterFell System can be used in your project.
Do I have to use coloured concrete exclusively?
The PeterFell System does not have to be used exclusively in all concrete in a project. The PeterFell System can easily be used in projects where only a portion of the concrete is required to be coloured i.e. other areas covered with carpet, wood flooring etc.
Can I use underfloor heating?
The PeterFell System can be used with all types of underfloor heating. The colour, cutting and sealing of the concrete has no impact on which ever in floor heating system is being used.
How much does a PeterFell floor cost?
The PeterFell System adds approximately $60 m2 to the cost of the concrete. This cost covers the 5 steps outlined above, but does not include the preparation and laying, the concrete itself, or any grinding or polishing. This ballpark cost provides a cost comparison with other hard flooring options (i.e. carpet, vinyl etc). For more details on costs please contact us.
Will the concrete crack?
As concrete hardens, excess water evaporates causing the concrete to shrink, and so cracks can occur. This issue is well understood and through the proper use of cutting, proper site preparation, and good concrete practice the risk is significantly reduced. For information on cracking and other potential problems click here.
Colour.
How is the concrete coloured?
Peter Fell Ltd use only Bayferrox oxides – the world leader in oxide manufacture and quality, to colour the concrete. These oxides are mixed through the concrete to ensure the colour remains for the life of the floor.
Will the colour fade?
No. The PeterFell System uses an integral colour method – the colour is mixed throughout the concrete. This results in the permanent colouring of concrete, it is not a surface coating and subsequently will not chip off or wear away.
Texture.
What textures and finishes are available?
There are a huge range of concrete textures ad finishes available, each of which will influence the concrete colour and overall appearance of the floor. Read more information about concrete textures.
Patterns.
Do I have to cut the concrete?
Absolutely – all concrete must be cut to reduce the chance of cracking as the concrete dries. These cuts (called Construction Cuts) and must be correctly positioned and executed within 24 hours of the concrete being poured, or there is a significant risk of concrete cracking (unless other jointing methods are employed). Other cuts (called Decorative Cuts) can be added later for decorative effect. Read more information on cutting concrete.
What are the cuts filled with?
All decorative cuts should be filled with PFL Non-Shrink Grout. PFL Non-Shrink Grout is a specially designed shrinkage-compensated grout with excellent substrate adhesion, is non-corrosive, non-toxic, and impact resistant. The grout can be coloured using any colour from the PeterFell colour range.
Protection.
Do I need to seal my concrete?
Yes – sealing is essential to protect the surface from staining and marking. Sealing will determine the final appearance, both colour and texture, of the concrete. Sealing stops 'dusting' (efflorescence) forming on the concrete surface which masks the concrete colour (often mistaken for colour fading), maintaining the true colour. More importantly, sealing makes the concrete easy to clean and maintain.
What do I seal the concrete with?
Peter Fell Ltd has a wide range of sealers –  see which concrete sealer is best for you.
Do I need to polish my concrete?
Polishing is an alternative to sealing the floor. A polished floor is more durable than a sealed floor, but requires a contractor. Read more information on polishing concrete.
How long will the sealer last?
No concrete sealer will last forever. The floor life of the sealer is very much dependent on preparation and application of the sealer. For typical application PeterFell sealers for internal floors have life of approximately 3 – 7 years, depending on the sealer type choosen. To maintain good protection of the floor, the sealer should be re-applied before it starts to wear significantly.